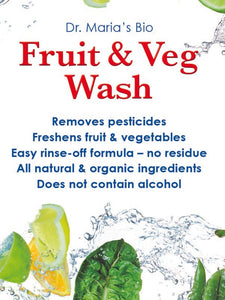 Removes Pesticides. Freshens fruit & vegetables. All natural & organic ingredients. Does not contain alcohol.
Instructions: Add 5ml of Bio Wash to 2L of water. Soak your veg/fruit. Agitate water slightly. Wait 2-5 minutes. Rinse under running water. No scrubbing required.
Ingredients: Coco Glucoside, Cocamidopropyl Betaine, Natural Thickening Agent, Natural Fresh Flavour, Purified Water.